It looks like Facebook is giving attention to the Facebook Messenger application.  Facebook is testing this feature in some countries. When the Public testing is finalized and reports gathered, The official update will be rolled out to common users one by one.
We all knew that Facebook has updated the Facebook messenger app for Android and iOS with few modes like editing a message which was sent by mistake or deleting it. Which is similar to the "Delete for Everyone"  feature in Whatsapp.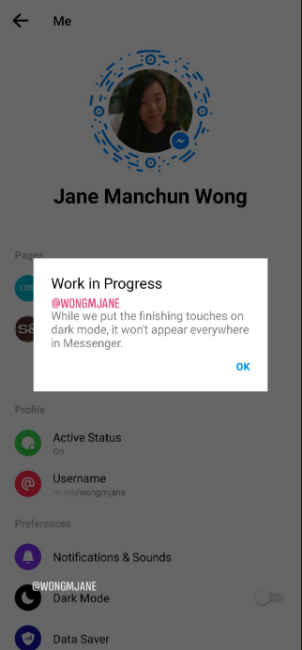 "Facebook Messenger, seemingly due to prolonged external nagging, has started public testing Dark Mode in certain countries. They have put up a fair warning that Dark Mode isn't everywhere yet so don't complain when some UI burns your eyes off," said Tipster Jane Manchun Wong on twitter. She has posted a screenshot of it.
Facebook Messenger, seemingly due to prolonged external nagging, has started public testing Dark Mode in certain countries

They have put up a fair warning that Dark Mode isn't everywhere yet so don't complain when some UI burns your eyes off

previously: https://t.co/9fCvbYXS5Z pic.twitter.com/wF3w5hsHfh

— jane (@wongmjane) December 31, 2018