Welcome, everyone, to our popular series – TechnoBugg's Weekly Roundup. In this series, we list our top 5 trending news of the week. We have some shocking news this week and this week is trending for Oppo, Facebook, Redmi, and more. So let's have a look at the top 5 trending news of the week.
1. Oppo K9 5G Launched With 64MP Camera Setup
The latest smartphone features a 6.43-inch AMOLED display along with a punch-hole design and the same also offers 1080 x 2400 pixels resolution, it also features a 20:9 aspect ratio, along with a 90Hz refresh rate, and a 180Hz touch sampling rate. It is powered by Snapdragon 768G chipset along with an 8GB of LPDDR4x RAM. The device comes with up to 256GB of internal storage.
Speaking about the camera department, the latest Oppo K9 5G features a 32-megapixel selfie camera. The smartphone is also coming with a 64-megapixel primary lens on the back, along with an 8-megapixel ultrawide lens with a 119-degree FOV, and a 2-megapixel macro lens. The latest Oppo smartphone is also coming with a sixth-generation in-screen fingerprint reader for the additional layer of security.
The device is also coming with a 4,300mAh battery with 65W rapid charging and it boots to ColorOS 11.1 based Android 11 OS. The Oppo smartphone is also coming with VC liquid-cooled heat sink, copper plate, and multi-layer thermal conductive graphite sheet for heat dissipation. Regarding the connectivity options, the latest Oppo K9 5G offers a dual SIM slot, 5G, Wi-Fi 802.11ac, Bluetooth 5.1, GPS, USB-C, and a 3.5mm audio jack. Click here to find the pricing of Oppo K9 5G.
2. iOS Users might be Charged Fees Unless They Opt for Sharing Data with Facebook and Instagram

With the iOS 14.5 update, Apple is tightening up their privacy policy. The company is demanding app makers to request permission from users before accessing user data. This rule seems to affect Facebook and Instagram who utilize user data to grow their business.
With the roll-out of this rule, Facebook has started a campaign against this and has started sending a notice to users saying that access to certain data is necessary to "help keep Facebook free of charge." The same message has been spotted by Instagram users as well.
And it begins. @Facebook / @Instagram explore additional scare tactics to combat @Apple iOS14 #ATT privacy changes.

"Help keep Facebook free of charge" pic.twitter.com/mOB9WJpz9A

— ashkan soltani (@ashk4n) April 30, 2021
Facebook is calling this notice "educational screens," and says "more details about how we use data for personalized ads."  These "educational screens," reads :
"This version of iOS requires us to ask for permission to track some data from the devices to improve your ads. Learn how we limit the use of this information if you don't turn on this device setting. We use information about your activity received from other apps and websites to: show you ads that are more personalized, help keep Facebook free of charge [and] support businesses that rely on ads to reach their customers."
Click here to read the full story.
3. Redmi Watch Incoming In India
Redmi the very popular Chinese brand is gearing up to launch its new products in the market of India on May 13 and the company has already confirmed to launch Redmi Note 10s smartphone in India on May 13 and now the company has confirmed to launch yet another product during the launch event.
It is confirmed to launch the Redmi Watch on May 13 and the same is believed to bear resemblance with the Xiaomi Mi Watch Lite, which unveiled in December 2020 in global markets.
It features a 1.4 inch touchscreen with 320×320 pixel resolution, and the same has auto brightness adjustment and a pixel density of 323 ppi. The device also features over 120 watch faces, and that means you can able to customize the screen of according to your style is you.
The latest Redmi Watch Lite comes with the capability of automatic step counter and supports 11 workout modes, which include Outdoor Running, Outdoor Cycling, Indoor Cycling, Treadmill, Open Water Swimming, Pool Swimming, Freestyle, Cricket, Trekking, Trail Run, and Walking. Click here to read more about the Redmi Watch.
4. Realme Laptops Loading
Nothing is going to stop the path of Realme in the tech world, as the company continues expanding its portfolio and now we got a new piece of information that confirms that the company will launch its new laptops.
Realme has shared a survey on its official Community and asking the public in India regarding their 'laptop preferences' and the same is powered by Google Forms.
The survey starts with basic information like gender, age group, and annual income. The Chinese brand also like to know the smartphone used by the user and how well are they satisfied with it.
Further, Realme asks whether you looking to purchase a laptop in the next 3 months and this suggests that the company could unveil laptops in Q3 2021. The company also suggests the price range of the upcoming laptops as Realme asks how much they are willing to spend on their next notebook. The price ranges include ₹30,000 and as high as ₹50,000 & above. Click here to read more about Realme.
5. Harmony OS Sneak Peak Leaks, Shown Working on Huawei Mate 40 Pro
Huawei Announced its new Harmony OS 2.0 last year during the Huawei Developer Conference 2020. The OS is also called Hongmeng OS 2.0 and its beta version started rolling out to the Huawei P30 and Mate 30 Pro. The stable version of Harmony OS 2.0 is expected to debut with Huawei P50 Series next month.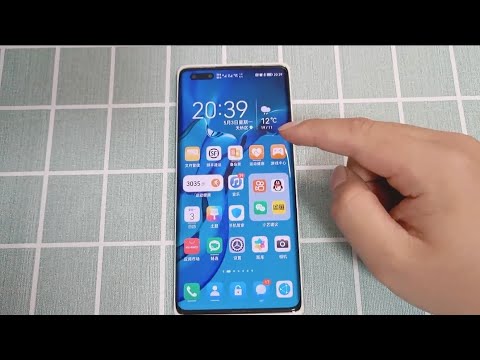 Ahead of the official release of the stable version, we have a four-minute video that showcases the performance of the upcoming OS. The OS is run on Huawei Mate 40 Pro and in the video we have all the new features and improvements to be featured in the Harmony OS 2.0. The video was spotted on the Chinese micro-blogging site, Weibo.
In the video, we can see a control centre that pops up when ragged from the top right corner using gesture control. There is also an in-phone search engine which can be seen on the top-left corner which reveals notifications if swiped down from anywhere. The phone also shows off the speed at which the native apps open in the OS.
If you notice the design language is largely similar to the EMUI 11 skin which runs on current Huawei phones. According to the company, the Harmony OS 2.0 is engineered to support Android apps as well. In addition, early tests suggest that the new OS does not use the Android kernel as the base but is built on a whole new platform. The company's vision is to introduce an OS that will run on all its smart products and provide a seamless experience like its American arch-nemesis. Click here to read more about Huawei.
So these are the top 5 trending news of this week. What are your thoughts on this list? Let us know in the comments section below. This Weekly Roundup will be available every Sunday, so stay tuned for that and much more information.
Read interesting news, reviews as well as tips & tricks on the TechnoBugg website, and stay updated with the latest happenings of the tech world on the go with Technobugg App.